New In: Kérastase Aura Botanica
Do you have dry or frizzy hair? Then this post's for you… read on to see how the lastest innovation from Kérastase can dramatically improve your hair texture helping it to feel frizz free and glossy.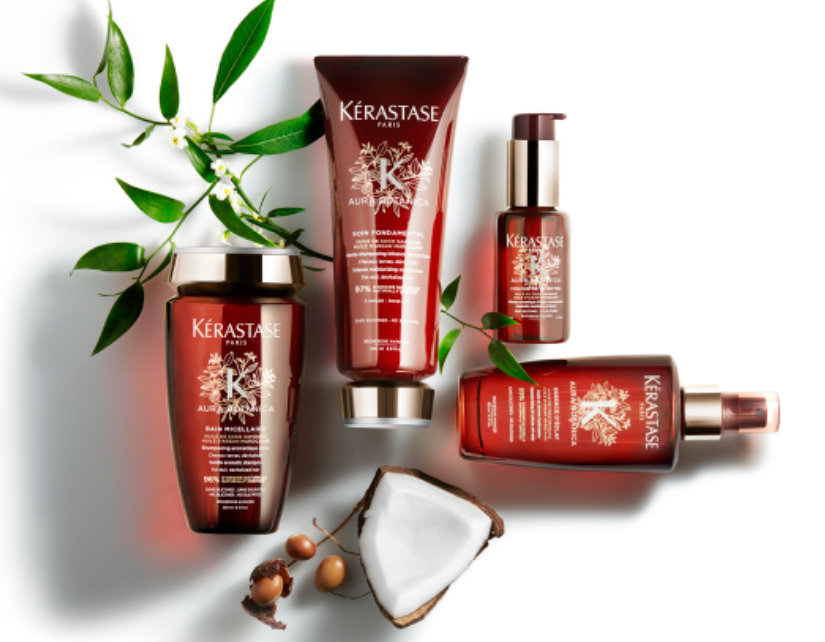 What makes Kérastase Aura Botanica an incredible product?
Using up to 98% natural origin ingredients which have been responsibly sourced and are 97% biodegradable. Kérastase believe in purpose and performance and their new Aura Botanica range puts them at the forefront of the drive for responsible luxury by supporting local co-operatives and minimising the environmental impact of its products. Here's how;
Samoan Coconut Oil – Double hand-pressed single-origin Samoan Coconut Oil produces a rich source of lauric acid: a linear lipid proven scientifically to penetrate deep within the hair shaft. The coconut oil bestows the formula with a soft, gentle cleansing and excellent foaming power and hair with long-lasting hydration, nutrition, protection, suppleness and strength.
The NGO Women in Business Development (WIBDI) is working with Kérastase to provide a cooperative of around a hundred local women with the equipment and knowledge to produce high-grade organic coconut oil. Providing an essential opportunity for employment which has been lacking on Samoan islands, forcing many to leave the islands.
Moroccan Argan Oils – Eco-Cert Certified organic Argan Oil is collected from the only Argan trees left growing in the wild which are found in the Little Atlas Mountains. Each fruit takes two years to mature and the rare oil extracted is rich in Linoleic acid, Omega-6 and Vitamin E antioxidants and is widely used by Moroccan women for hair care. It is used in all Aura Botanica products as it nourishes the dry surface of the hair while adding softness and incredible durable shine.
As Kérastase themselves say "We are proud to be involved in Targanine, a community project helping local Berber women to provide for their families. Several cooperatives have up to 50 members, making it possible to offer literary classes and nurseries for young children. The project perpetuates the traditions of village life, while helping to preserve the fragile ecosystem of the Argan forest; part of a UNESCO Biosphere Reserve."
Brazillian Orange Oils –  Kérastase renewably extract this citrus oil from organically grown Brazillian Orange zests and use the natural oils as the essential element in the divine citrus fragrance of all of the Aura Botanica range.
Who is Aura Botanica suitable for?
Aura Botanical is ideal if you have dull, devitalised hair is hair that lacks radiance and needs to be revitalised. Recommended for normal to slightly sensitised hair that can be coloured, slightly frizzy, dry to the touch and neither too fine nor too thick.
What are the benefits of using it?
The Aura Botanica range was developed from scratch over 18 months with 50 formulas created and tested. It was created with the intention that naturality and sustainability can meet performance and luxury and it has achieved this. With its sulphate free formula, bio degradability and sustainable sourcing Aura Botanica provides:
48 hours of durable conditioning
72 hours of anti-frizz protection
3 times shinier hair.
Using Aura Botanica reveals the hair's healthy glow, leaving hair that feels uncoated and weightless yet deeply nourished with frizz control.  Talk to your stylist at The Chair about whether the new Aura Botanica range is right for your hair type. The range contains Micellar Shampoo to gently cleanse, Soin Fondamental to deeply condition, Essence d'Éclat – a misting spray to enrich with coconut, argan, jojoba and avocado oil to infuse hair with a damask rose scent and controll frizz and Concentré Essentiel a blended intensive nourishing oil. The complete range is available to buy now in salon at Kérastase stockists – The Chair Hair Specialist.
---
---