Free Kérastase Treatment worth £16!
Nourish your hair this summer with our July and August offer of a free Kérastase treatment every time you buy two or more Kérastase  products (in a single transaction. Kérastase is a luxury hair care range and what we use in the salon. The ranges have been expertly developed and there is the perfect product combination for every hair type. If you haven't converted to Kérastase  already do give it a try, it really is a fantastic brand and with the ravages on your hair that summer living brings there's never been a better time to try it! Perhaps try the smaller sized travel packs and ask advice from your stylist about which range they recommend for your hair type and needs.
The summer takes its toll on your hair – from sensitising and weakening hair strands making them more prone to breakage to fading colour. The sun and chlorine weakens the hair's protein structure causing it to lose moisture and elasticity, leaving it dehydrated, brittle and dull.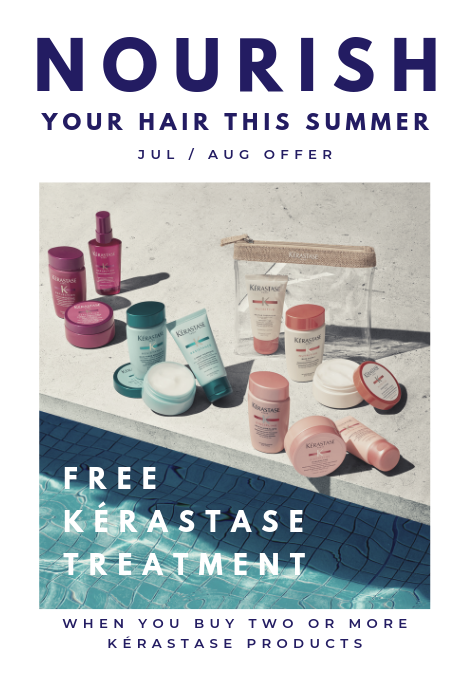 Here are The Chair's top tips for using Kérastase to protect your hair this summer:
Make sure you protect your hair before you head outside – try Kérastase UV Creme Sublime, a lightweight leave-in cream designed to give your hair long-term shine and anti-frizz smoothness. Apply before and during sun exposure for best results.
If you're jetting off this summer be sure to pack Kérastase Bain Apres-Soleil, an after-sun shampoo enriched with coconut water that gently removes chlorine, salt and sand residue from your locks, restoring shine and vibrance.
Treat your hair every week or so to a powerful mask to replenish lost moisture and strengthen and re-invigorate your hair. Try Kérastase Masque Apre-Soleil. This lightweight mask provides nourishment and hydration, ideal for the summer months.
Don't forget that during July and August we will super-charge your hair with a Kérastase treatment to really nourish from the roots to the tips, you'll really notice the difference and be doing your hair a good service!
---
---